Postcards - Cape May County NJ - Page 47
1 | 2 | 3 | 4 | 5 | 6 | 7 | 8 | 9 | 10 | 11 | 12 | 13 | 14 | 15 | 16 | 17 | 18 | 19 | 20
21 | 22 | 23 | 24 | 25 | 26 | 27 | 28 | 29 | 30 | 31 | 32 | 33 | 34 | 35 | 36 | 37 | 38 | 39 | 40
41 | 42 | 43 | 44 | 45 | 46 | 47 | 48 | 49 | 50 | 51 | 52 | 53 | 54 | 55 | 56 | 57 | 58 | 59 | 60
61 | 62 | 63 | 64 | 65 | 66 | 67 | 68 | 69 | 70 | 71 | 72 | 73 | 74 | 75 | 76 | 77 | 78 | 79 | 80
81 | 82 | 83 | 84 | 85 | 86 | 87 | 88 | 89 | 90 | 91 | 92 | 93 | 94 | 95 | 96 | 97 | 98 | 99 | 100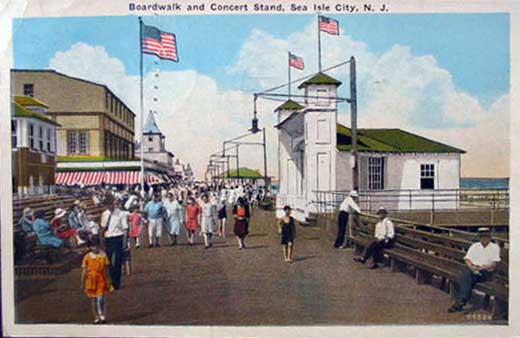 A view of the Sea Isle City, NJ boardwalk from the 1920s-30s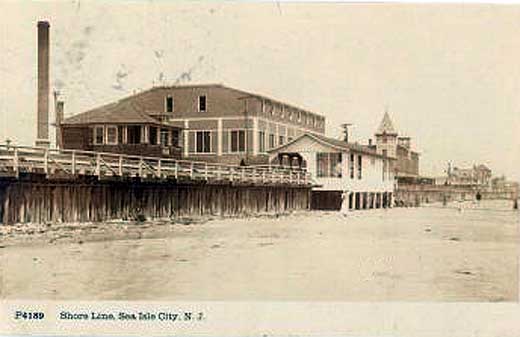 A postcard of the boardwalk in Sea Isle City, NJ from around 1915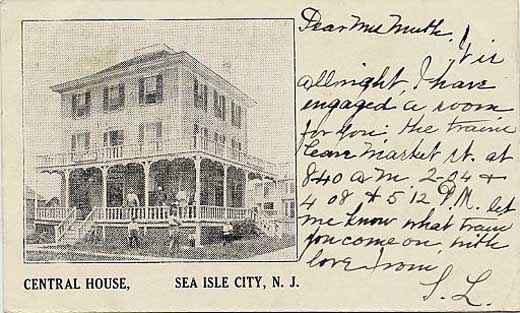 Central House in Sea Isle City, NJ about 1909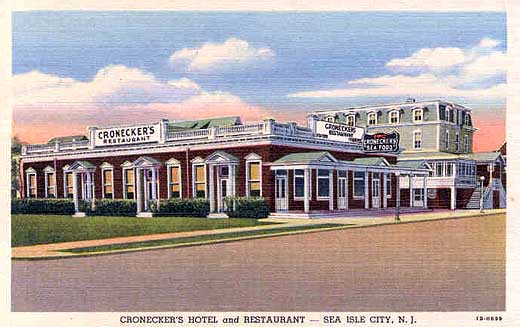 Cronecker's Hotel and Restaurant in Sea Isle City, NJ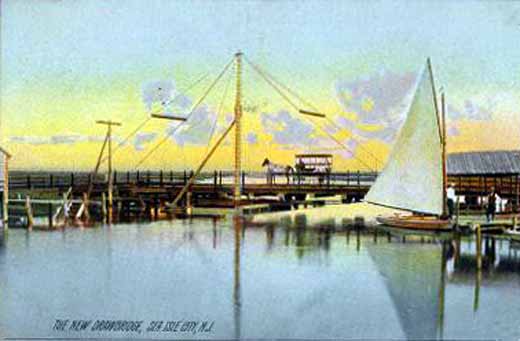 The Drawbridge at Sea Isle City, NJ around 1908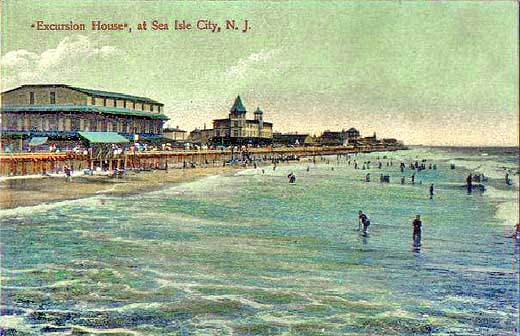 The Excursion House at Sea Isle City, NJ circa 1909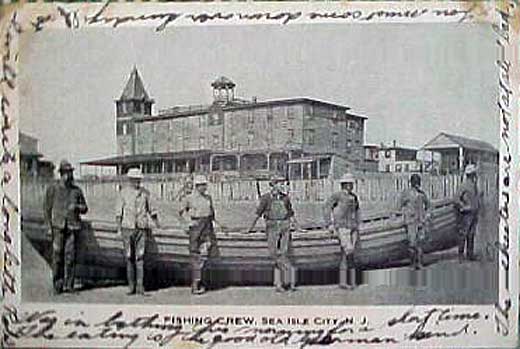 A fishing crew at Sea Isle City, NJ around 1908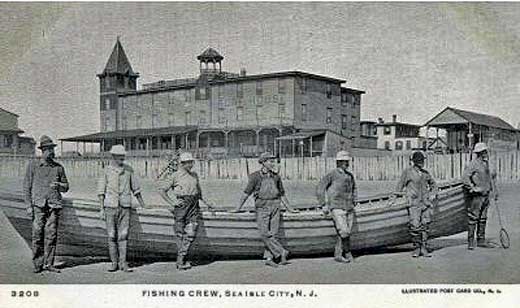 The same shot on a postcard from 1910. These guys had a good run. This as good a time as any to point out the perils of dating postcard images based on the date that the card was sent. That is why this site generally inserts worts such as around, about and circa before dates. Unless the image itself is dated, all that can really be said is that it dates from some time before the postmark date. We use the postmark dates, when we can get them, to provide at least some sort of context for the images.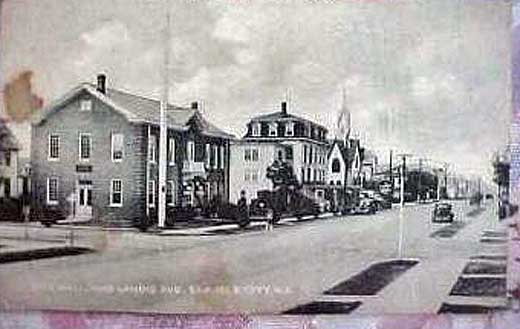 City Hall in Sea Isle City, NJ around 1944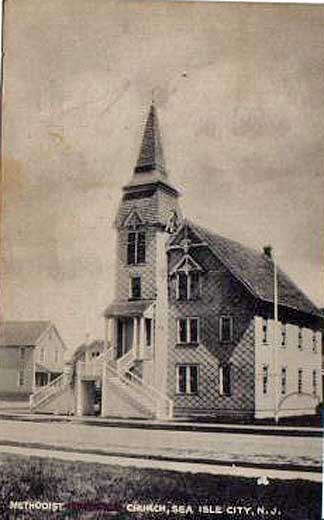 The Methodist Church in Sea Isle City, NJ about 1945.
1 | 2 | 3 | 4 | 5 | 6 | 7 | 8 | 9 | 10 | 11 | 12 | 13 | 14 | 15 | 16 | 17 | 18 | 19 | 20
21 | 22 | 23 | 24 | 25 | 26 | 27 | 28 | 29 | 30 | 31 | 32 | 33 | 34 | 35 | 36 | 37 | 38 | 39 | 40
41 | 42 | 43 | 44 | 45 | 46 | 47 | 48 | 49 | 50 | 51 | 52 | 53 | 54 | 55 | 56 | 57 | 58 | 59 | 60
61 | 62 | 63 | 64 | 65 | 66 | 67 | 68 | 69 | 70 | 71 | 72 | 73 | 74 | 75 | 76 | 77 | 78 | 79 | 80
81 | 82 | 83 | 84 | 85 | 86 | 87 | 88 | 89 | 90 | 91 | 92 | 93 | 94 | 95 | 96 | 97 | 98 | 99 | 100
Copyright 2002-2013 West Jersey History Project